Ridley Athletic Complex
Loyola University Maryland celebrated the grand opening and dedication of The Reverend Harold Ridley, S.J., Athletic Complex on Saturday, March 13, 2010 the men's lacrosse team hosted Duke University in the first intercollegiate game at the stadium.
The Ridley Athletic Complex is home of Loyola's NCAA Division I men's and women's lacrosse and soccer teams. It features a 6,000-seat grandstand; Sportexe Momentum synthetic turf competition field; video scoreboard; practice field; training facilities; locker rooms for home teams, visitors, coaches and officials; athletics staff offices; press, presidential, and VIP boxes; concession areas; and event space.
"This highly anticipated facility represents an extraordinary step forward for Loyola's already outstanding athletics program," said University President Brian F. Linnane, S.J. "This state-of-the-art complex will allow us to continue to attract student-athletes of the highest caliber, host a broader range of post-season events, enhance pride in Loyola and the Greyhounds, and create new opportunities to connect with our neighbors in Baltimore."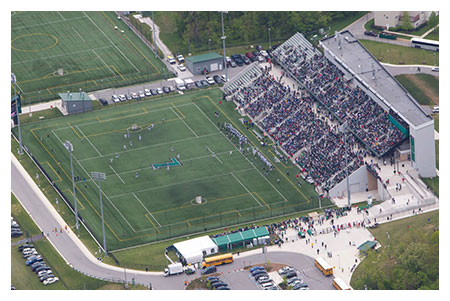 Diane Geppi-Aikens Field
Located in the heart of the Evergreen Campus, Diane Geppi-Aikens Field is adjacent to the DeChiaro College Center, which houses the Athletic Department offices, as well as Reitz Arena. Diane Geppi-Aikens Field has a capacity of 5,000, and including standing room, has been known to hold more than 6,000 spectators. Completed in 1979, it has one of the world's largest artificial playing surfaces, and a recent makover gave it a surface that rivals the surfaces many National Football League teams compete on.
Dorms and Athletic Facilities
Loyola University has been included among the best 371 colleges in the 2010 Princeton Review guide. In addition, Loyola's residence halls ranked second in the country, its athletic facilities ranked 10th…
Loyola operates 14 residence halls, including a mix of traditional doubles, suites, and apartments. Athletic facilities include the 3,000-seat Reitz Arena; the 3,000-seat Diane Geppi-Aikens Field; and the Fitness & Aquatic Center, which features a two-story indoor rock-climbing wall, a 6,000-square-foot fitness center, a multi-court gymnasium, and swimming pool with 500-seat spectator area. The 6,000-seat Ridley Intercollegiate Athletic Complex, now under construction, is scheduled to open in spring 2010.